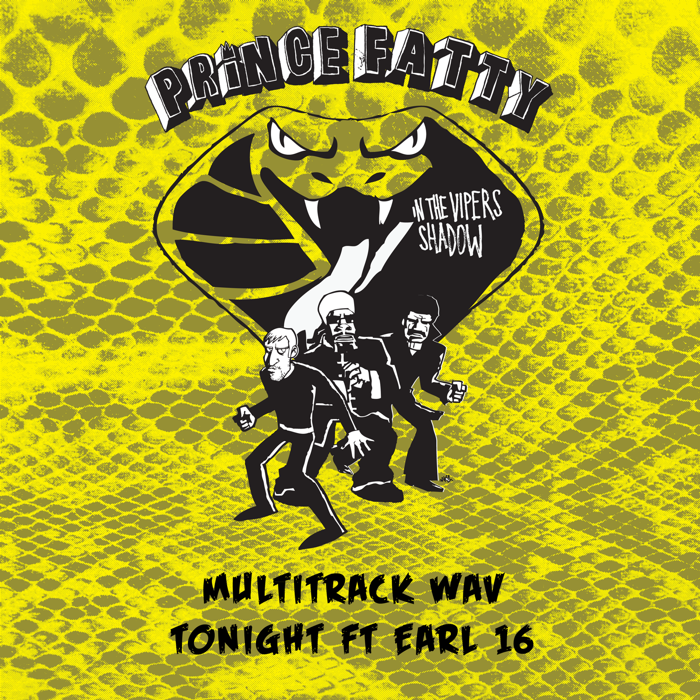 Tonight ft Earl 16 - Multi Track WAV files
By downloading the package you are agreeing to the terms of use below
Package contents
24bit / 44.2kHz - WAV audio files
KICK.wav SNARE.wav TIMBALE.wav HATS.wav RACKTOM1.wav RACKTOM2.wav KITFRONT.wav OVERHEADL.wav OVERHEADR.wav SHAKER.wav TAMB.wav KETE.wav BASS.wav BUBBLEBASS.wav GTRCHOP.wav GTRPICK.wav BUBBLEL.wav BUBBLER.wav PIANO.wav BVA.wav BVB.wav BVC.wav BVD.wav LD_VOX.wav
Info
Stems are the separate audio files for each of the individual parts contained within in a recording. Fatty supplies these Stems dry and free from any effects, which enables you to create your own cosmic soundscapes by adding reverb or delay to each instrument separately.
The tracks are live performances from start to finish, including full arrangements complete with intros and fills.
Terms
All tracks recorded by Prince Fatty - 2019 copyright. All rights of the owner of the recorded work reserved. Unauthorised copying, public performance and broadcasting of this record prohibited.
It is prohibited to release any recordings you have made using these stems.
Sampling individual or all of the stems is also prohibited. These are designed as an education tool for people to experience the joy and endless possibilities of Dubbing.
You cannot sample the Acapella for other recordings or releases, even if you have made the instrumental.